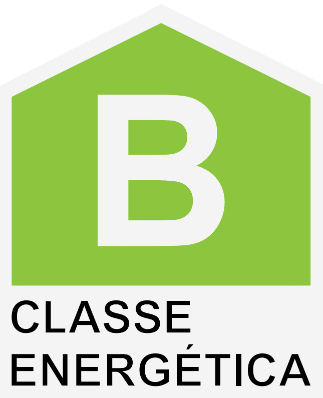 New Building
New residential building of contemporary architecture and design, with excellent finishes, elegance and good areas in a residential area, very close to the center of Lagos, with good conditions for urban mobility, less than 5 minutes walk from the marina, close to supermarkets, cafes, restaurants and schools, with good-sized balconies, communal swimming pool on the roof and panoramic views of the city, fire-rated security door, video intercom system, thermal frames with double glazing and electric shutters, heat pump, split and ducted air conditioning, hydraulic underfloor heating, controlled mechanical ventilation system, allowing permanent and effective ventilation, promoting indoor air quality and preventing the accumulation of moisture.

Great opportunity, for those looking for an apartment in a quiet area, with easy access to the various points of interest in the city.

Completion scheduled for the first quarter of 2025.
Property Features
---
Air conditioning
Electric blinds
Floor heating
Heat pump
Double glazed windows
Pool
Automatic gate
Video intercom
Roof terrace
Lift
Central location
Energetic certification: B
Garage
Balcony
Lagos
15 Available fractions
| | | | | | | | | |
| --- | --- | --- | --- | --- | --- | --- | --- | --- |
| A100971 | | Apartment | 3 | 3 | 134,6 m2 | 177,4 m2 | 540 000€ | KNOW MORE |
| A100972 | | Apartment | 2 | 2 | 95,7 m2 | 125 m2 | 410 000€ | KNOW MORE |
| A100973 | | Apartment | 2 | 2 | 105 m2 | 144,4 m2 | 480 000€ | KNOW MORE |
| A100974 | | Apartment | 3 | 3 | 178,9 m2 | 178,9 m2 | 480 000€ | KNOW MORE |
| A100976 | | Apartment | 3 | 3 | 179,2 m2 | 179,2 m2 | 500 000€ | KNOW MORE |
| A100977 | | Apartment | 3 | 3 | 179,2 m2 | 179,2 m2 | 520 000€ | KNOW MORE |
| A100978 | | Apartment | 3 | 3 | 181,4 m2 | 181,4 m2 | 510 000€ | KNOW MORE |
| A100979 | | Apartment | 3 | 3 | 180,9 m2 | 180,9 m2 | 545 000€ | KNOW MORE |
| A1009710 | | Apartment | 3 | 3 | 178,9 m2 | 178,9 m2 | 570 000€ | KNOW MORE |
| A1009713 | | Apartment | 2 | 2 | 143,7 m2 | 143,7 m2 | 410 000€ | KNOW MORE |
| A1009714 | | Apartment | 2 | 2 | 144,9 m2 | 144,9 m2 | 440 000€ | KNOW MORE |
| A1009716 | | Apartment | 2 | 2 | 124,2 m2 | 124,2 m2 | 420 000€ | KNOW MORE |
| A1009718 | | Apartment | 2 | 2 | 124,6 m2 | 124,6 m2 | 445 000€ | KNOW MORE |
| A1009719 | | Apartment | 2 | 2 | 125 m2 | 125 m2 | 440 000€ | KNOW MORE |
| A1009721 | | Apartment | 2 | 2 | 124,5 m2 | 124,5 m2 | 470 000€ | KNOW MORE |